10 Point Terminal Busbar
VTE is happy to offer our 10 Point Power Distribution Block. This system allows for up to 10 electrical connections, each running up to 15 amps continuous. With the optional terminal cover, the assembly complies with USCG, ISO and ABYC standards requirements.
---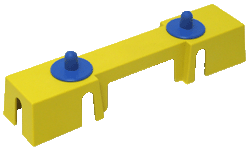 724N3P05
10 connection points, #8-32 stainless steel screws
Amperage:

Max continuous: 150 amps @ 12 vdc - 15 amps per connection
Max intermittent: 20 amps per connection (less than 1 minute)

Max Voltage: 48 vdc
(2) 1/4" stainless steel terminal posts
Stainless steel hex nuts and lock washer
Base Material: Glass-Filled Nylon (Red & Black)
Mounting screws: #10 (not included)
Mounting center: 4.66 in
When used with insulators, meets USCG 33 CFR Subpart I, SAE J2120 8.5 & ABYC E-9.4 H
Part Number
Description
Color
Price
771025N0N02
10 Point Terminal Busbar
Red
$6.50
771025N0N14
10 Point Terminal Busbar
Black
$6.39
724N3P02
Red Cover w/ Retainers
Red
$3.35
724N3P05
Yellow Cover w/ Blue Retainers
Yellow
$3.35
724N3P14
Black Cover w/ Retainers
Black
$3.15
Total Order Minimum: $15.00
Online prices enjoy a 5% reduction.
For commercial quantities, please contact VTE, Inc.