ANL Fuses & Fuse Holder
Protect your electrical components and wiring with high amperage ANL fuses. Secure your ANL fuses with VTE ANL Fuse Holders, a low-cost and practical platform for over-current protection.
---
Fuse Holder ANB740 Max Amperage: 300 amps @ 12 vdc
For fuses over 300 amp, VTE recommends the Hi-Amp ANL Fuse Holder
Max Voltage: 48 vdc
ANB740 Series accepts large and narrow slot ANL fuses
ANL Fuse Kit includes fuse holder and two (2) 487 Series terminal insulators, hardware and clear center cover
ANL Fuses sold seperately
Included terminal insulators protect conductive areas from accidental shorts, complying with ABYC / USCG requirements
Connection Post Material : Stainless Steel
Base Material: Glass filled nylon
Connection Post: Stainless steel
Lock Washer: Stainless steel
Flat Washer: Brass
VTE has discontinued our ANL Fuse line. Please see Clearance Page for availability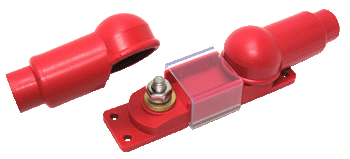 Total Order Minimum: $15.00
Online prices enjoy a 5% reduction.
For commercial quantities, please contact VTE, Inc.