Class T (JJN) Fuse Holder
Secure your Class T fuses with VTE's Class T Fuse Holder.
---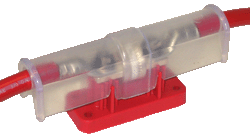 Class T Fuse Holder, with T-Class Fuse and optional cover: 751N8P00
Cost effective solutions for Class T over current protection
Accepts Class T Fuses from 225a to 400a
Max Amperage: 400 amps @ 12 vdc
Holder Voltage Rating: 48vdc
Class T Holder includes base, washers, bolts, nuts. Optional cover sold seperately
Class T Fuses sold seperately
3/8" (approx: 10mm) stud accepts lug / ring terminals up to 4/0 AWG (103mm2)
Base Material : Red or black glass-filled nylon
Optional insulating cover: 751N8P00 protects conductive areas from accidental shorts, complying with ABYC / USCG requirements
Connection Bolt Material : Stainless Steel
Total Order Minimum: $15.00
Online prices enjoy a 5% reduction.
For commercial quantities, please contact VTE, Inc.