Heavy Duty Single Point Power Posts
Connect and consolidate positive and negative power lines. Extend power lines to different locations, or split lines into several locations. Can be mounted in any orientation, and stainless hardware resists corrosion.
Click to see

M10 - 10mm Post - 77510M
M12 - 12mm Post - 77512M
1/2" - 1/2" Post - 77512N






77510M0N02

77510M0N14

M10 x 1.5 x 45mm S.S. Hex Bolt
Stainless Steel Washers & Nuts
Glass Filled Nylon Base
---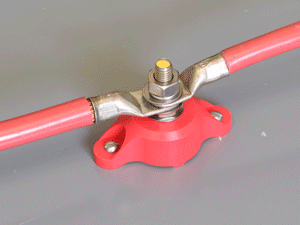 Dual Cable Terminal Insulator
956 Series
( 775 10mm posts only )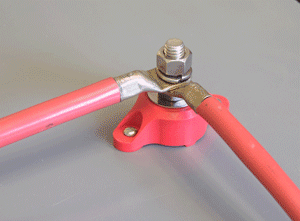 Dual Cable Terminal Insulator
375 Series
Connect 2 or more power lines
Hook up negative return lines to a single cable
Strong stable base will withstand heavy torque and pulling force
Designed for use in marine environments: resists saltwater corrosion

Stainless steel connection post
Stainless steel flat washer
Stainless steel lock washer
Stainless steel nuts

Maximum voltage: 0 - 48 VDC
Maximum current: 250 amps @ 12 VDC
Base material: Glass-filled nylon
Available in: Red & Black
Mounting holes distance: 2.5 in
Post Material / Conductive Nuts
Spring Washer / Fastener Nuts
Post Size
Part Number
Color
Price
Stainless Steel / Stainless Steel
Stainless Steel / Stainless Steel
10 mm
77510M0N02
Red
3.94
77510M0N14
Black
3.75
12 mm
77512M0N02
Red
3.52
77512M0N14
Black
3.32
1/2"
77512N0N02
Red
3.37
77512N0N14
Black
3.44
Total Order Minimum: $15.00
Online prices enjoy a 5% reduction.
For commercial quantities, please contact VTE, Inc.