Copper Core Power Bushing
VTE has developed an innovative and unique solution for passing current through a barrier. Our Copper Core Power Bushing brings new features, low cost and ease of use to your current passing projects.
Our Copper Core Power Bushings have been designed with these key components in mind:
High Energy Transfer
High Torque
High Anti-Rotation
Weatherproof Available
Low Product Cost
Low Assembled Cost
Also available in Metric M10
High Energy Transfer

High Torque

High Anti-Rotation

Weatherproof Available

Low Product Cost

Low Assembled Cost
---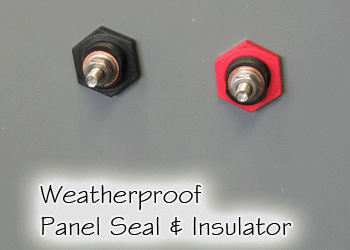 For panel thickness up to 13/32"
Easy to assemble and install
Very low cost
Copper Core Max Amps: 550 amps @ 12 vdc
Max Voltage: 48 vdc
Availabe in Red & Black
Bushing Material : Glass-Filled Nylon
Post Material : Nickel Plated Mild Steel
Fastener (nut) Material : Stainless Steel
Use second panel nut (359N) for high dynamic loads Panel thickness up to 3/16"
---
Use Terminal Insulators to comply with industry standards

258N4 Series Insulator
Multiple 4/0 ga (120mm2) cable


258N9 Series Insulator
Multiple 4/0 ga (120mm2) cable


956N Series Dual Insulator
Dual 3/0 ga (81mm2) cable


795 Multiple Cable Insulator
Multiple 3/0 ga (81mm2) cables

---
Total Order Minimum: $15.00
Online prices enjoy a 5% reduction.
For commercial quantities, please contact VTE, Inc.